3-INGREDIENT PUMPKIN CHOCOLATE CANDY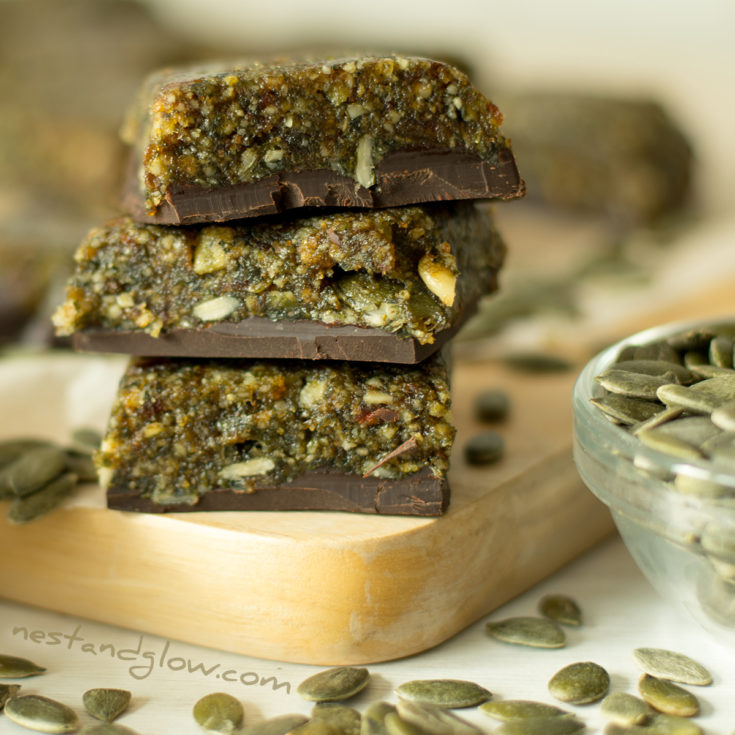 Healthy candy full of goodness that's made from just pumpkin seeds, fruit and cacao. Tastes amazing and a great source of plant protein, fibre and vitamins. Perfect healthy snack to keep you full and energised.
INGREDIENTS
1 cup / 130g Pumpkin Seeds
1 cup / 175g Dates, pitted
4.4oz / 125g Chocolate
INSTRUCTIONS
Soak the pumpkin seeds in water for an hour or overnight to sprout.
Rinse and drain the seeds then blend together with the dates until combined.
You may need to scrape the sides if using a food processor/blender or shake if you are using a small bullet blender.
Melt the chocolate.
Line pan with greaseproof paper then tip in the pumpkin date mixture and using your fingers push the edges to make level.
Pour on the chocolate then tilt to spread to the edges.
Chill pumpkin seed candy to set then slice.
Enjoy pumpkin seed sweets within 3 days as the sprouted seeds last this long and always store in the fridge.
Let me know what you think about this healthy pumpkin seed recipe in the comments on social media @nestandglow.
NOTES
 https://www.nestandglow.com/healthy-recipes/pumpkin-seed-chocolate-candy
Equipment: Blender/food processor, bowl, 8″ dish, greaseproof/parchment paper